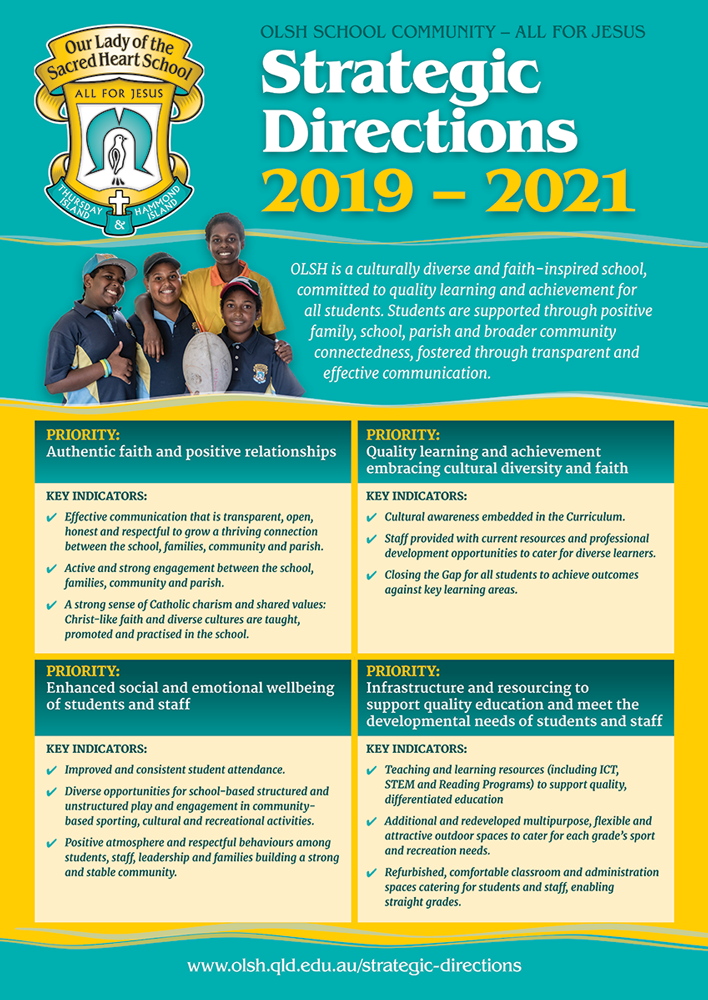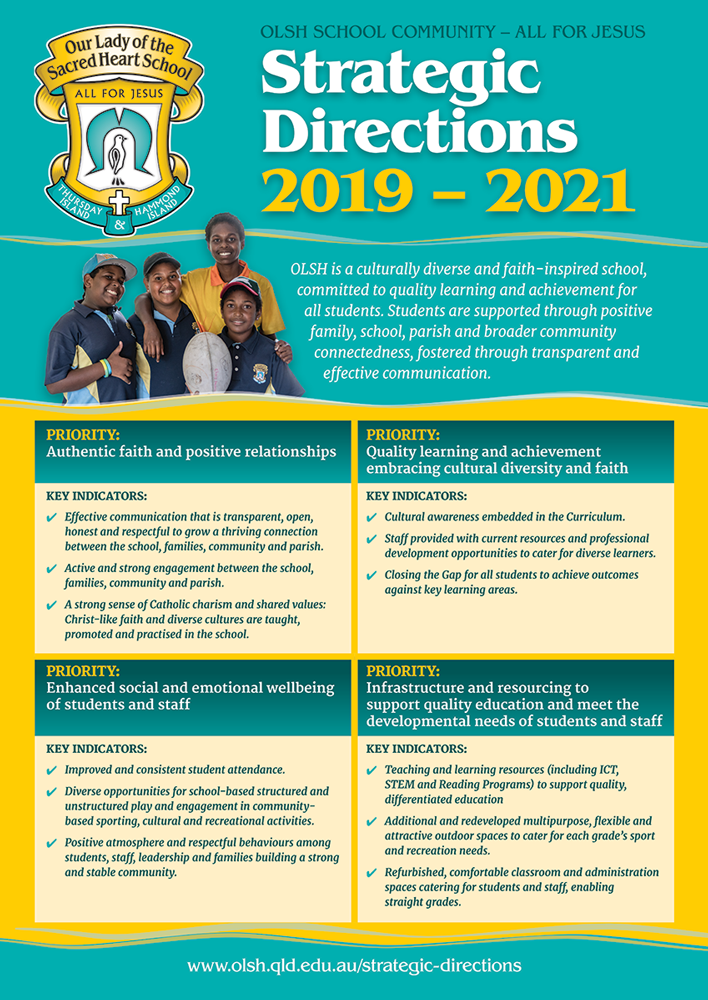 STRATEGIC DIRECTIONS 2019 – 2021
OLSH is a culturally diverse and faith-inspired school, committed to quality learning and achievement for all students.
Students are supported through positive family, school, parish and broader community connectedness, fostered through transparent and effective communication.
PRIORITY:
Authentic faith and positive relationships
KEY INDICATORS:
Effective communication that is transparent, open, honest and respectful to grow a thriving connection between the school, families, community and parish.
Active and strong engagement between the school, families, community and parish.
A strong sense of Catholic charism and shared values: Christ-like faith and diverse cultures are taught, promoted and practised in the school.
PRIORITY:
Quality learning and achievement embracing cultural diversity and faith
KEY INDICATORS:
Cultural awareness embedded in the Curriculum.
Staff provided with current resources and professional development opportunities to cater for diverse learners.
Closing the Gap for all students to achieve outcomes against key learning areas.
PRIORITY:
Enhanced social and emotional wellbeing of students and staff
KEY INDICATORS:
Improved and consistent student attendance.
Diverse opportunities for school-based structured and unstructured play and engagement in community-based sporting, cultural and recreational activities.
Positive atmosphere and respectful behaviours among students, staff, leadership and families building a strong and stable community.
PRIORITY:
Infrastructure and resourcing to support quality education and meet the developmental needs of students and staff
KEY INDICATORS:
Teaching and learning resources (including ICT, STEM and Reading Programs) to support quality, differentiated education.
Additional and redeveloped multipurpose, flexible and attractive outdoor spaces to cater for each grade's sport and recreation needs.
Refurbished, comfortable classroom and administration spaces catering for students and staff, enabling straight grades.